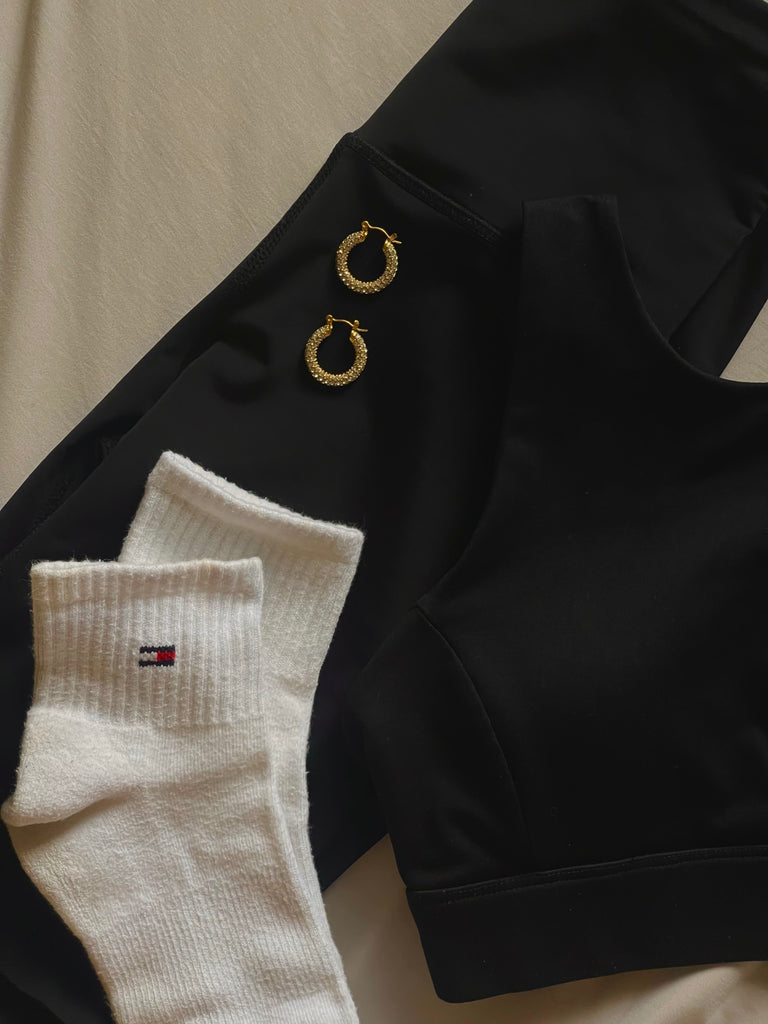 We've gone through way too many pairs of 'gold' hoop earrings so we've made a list of our favourite stylish and sweat-proof pieces you can work out in! (We're also just lazy and never take off our jewelry). All women-owned brands because they know what we need.
1. Unsalted Honey
- they've recently switched all their pieces to tarnish-free materials which means you can swim, sweat, and shower in them! Our favourite is the
Biggie Crystal Glamour Hoop Earrings
. 
2. Adae Jewelry
 - all of their stunning pieces are hypoallergenic and plated in real 14K or 18K gold. This brand is run by three lovely Muslim, North African/Carribean, Canadian sisters who strive to make all of their pieces inclusive. Our favourite is the
Haley Herringbone Necklace
. 
3. Golden Hour
- this custom permanent jeweller has an endless amount of options ranging from 14k gold to .925 sterling silver. Since these chains are welded together, they are made to be waterproof and sweat proof! 
We love their classic rolo silver and gold bracelets. 
4. Cadette Jewelry
- All of their pieces are handcrafted with intention, shapes inspired by nature. Their solid gold collection is meant to last a lifetime. Our favourite is the
Baby Butterfly Necklace
.  
5. Cuchara
- their designs are inspired by Toronto's creative community; Cuchara keeps sustainability and ethical production in mind while designing their pieces. Their fine collection includes classic tarnish-free staples including our favourite, the
Classic Dome Ring
.
6. Sarah J Holmes
- SJH Jewelry 
brings the fine details and quality of craftsmanship together with Sarah's love of gemstones
pieces. We absolutely love 
Mila Hoops
 as they are the perfect multifunctional staples.
7. Jewels and Aces
- All of their capsule collections are paving the way for 
reimagining jewelry; it gives everyone their own freedom for creative expression.
The All Star set
 is a 4-piece stunning earring capsule
 guaranteed for effortless and elevated combinations.
Pieces that will continue to shine after your sweatiest workouts! Let us know what you're favourite brands are on our Instagram or through our e-mail.