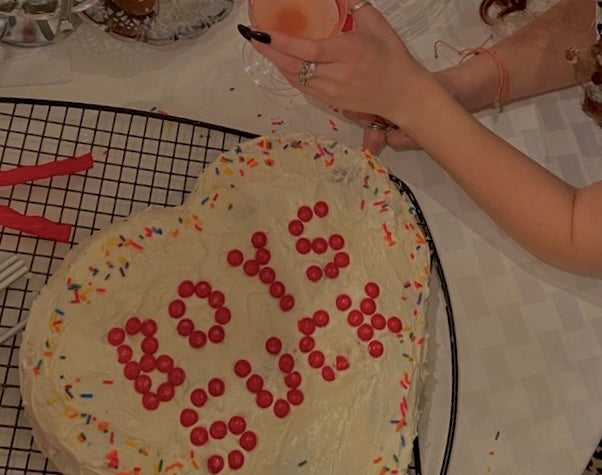 Galentine's > Valentine's on any given day. Here is our list of easy and fun things to do with your day ones this Galentine's Day!
1. Girls Night In - but only cook and bake heart shaped foods! Anything can be made into a heart; pizzas, raviolis, cookies, the list goes on and on. You don't even need a stencil - free hand that dough! Don't forget to buy a film camera so you can take photos of all the icing being consumed. 
Our favourite heart shaped foods are pizzas, pancakes, and rice krispie squares. Click on the thumbnail for recipes.
2. Do a workout class with your friends. We love spin classes (there are studios that will have Galentine's Day themed classes and play the best Girl Power anthems) or yoga classes to relax and unwind. Regardless, this is a great way to release those endorphins!
3. Get permanent friendship bracelets. There are so trendy right now and we hopping on the bandwagon! Tattoos are a little too long-lasting for us, but getting sparked with your bff is such a great way to express your undying friendship for each other. Check out Golden Hour or Leah Alexandra in Toronto and Vancouver.
4. Buy a bundle of roses and give them out to your friends. Who doesn't love flowers? Go to your local flower shop, buy a dozen roses and give out a stem along with some hershey kisses to your girls. Quick tip: hang the rose upside down after a week for a beautiful dried flower! Check out Thyme Studios in Toronto for the freshest florals.
5. Write a card or letter to your bffs with a list of things you love about them. Personally, our perfect gift is a written one that comes from the heart. It's really difficult to compliment ourselves, and when someone else expresses their appreciation for us it truly feels like we're on top of the world. 
Happy Galentine's Day, and don't forget to show yourself some love too!